The Regional Forum: Gender Equality in the EU Accession, organized by the Coalition for Gender Equality in the EU Accession Process (EQUAPRO) took place on 12 September 2023, in Hotel Aleksandar Palace in Skopje, North Macedonia.
The event brought gender equality in the center of the political debate related to the EU Accession Process and created a forum for dialogue between the different regional stakeholders who jointly reflected on current and past experiences in furthering gender in the EU Accession processes, and shared best practices towards gender-sensitive EU Accession process for all WB countries.
During the opening addresses, Bibi Gramsson, Deputy Head of Mission, Swedish Embassy Skopje, emphasized gender equality, primarily as a human right and thus fundamental to the foundations upon which the EU is built upon. She highlighted gender equality as a prerequisite for democratic and economic progress in our societies, for which it is crucial that we work together, including all stakeholders through an intersectional approach.
"For women and girls to play a full part in our societies – and for our societies to reach their full potential – we need to address structural issues preventing women from equal and meaningful participation. Therefore, the use of holistic approach covering issues of inclusion, legislation and policy are crucial," Gramson said in her address.
Stina Magnuson Burr, Head of Office, Western Balkans, Kvinna till Kvinna Foundation, pointed out the disparity when it comes to positions of power, where women are not equally represented. "Women should be consulted in all political decision making and all political areas, because women are half of the population," said Magnuson Burr. She emphasized that if the gender aspect is not included, the policies and laws will be limited and this will affect important aspects of the development of society and ensuring equal access and rights for all. "Gender equality should be mainstreamed into every policy area and until we reach gender equality, we should always include gender aspects of the decisions that we make." – she added.
Tanja Ivanova, president of Reactor – Research in Action, gave an insight into the activities of the regional partners and once again emphasized the necessity to take into account the rights and needs of all men and women with all their differences when creating policies and development measures if we want to have just and equal societies.
Within the three thematic sessions, the panelists discussed gender in the political dialogue, integrating a gender perspective in EU Accession and related policies and the importance of CSO engagement in SAA Structures.
Talking about gender in political dialogue and EU accession processes, H.E. David Geer, Ambassador of the European Union to the Republic of North Macedonia, highlighted: "Gender-equal societies are more prosperous, safe and just. Thus, gender equality is not just for women, it is for all citizens and society as a whole. Fighting gender inequalities, empowering women, protecting women's rights and activists inside and outside of the EU are priorities for all of us."
"Moreover, the gender equality perspective is an integral part of all accession stages and levels of policies". – he added.
Jovana Trenchevska, Minister of Labor and Social Policy (Ministry of Labor and Social Policy of North Macedonia), emphasized that the issue of gender equality is one of the crucial issues when we talk about the political dialogue and the EU Accession process. She expressed her belief that in the accession process, by following and transposing EU directives, we will include gender perspectives in the policies, something that is already reflected in the gender equality strategy that the state adopted in 2022, as well as the action plan for the implementation of this strategy.
Drita Abdiu Halili, State Secretary and Deputy Chief Negotiator with the EU (Secretariat for European Affairs of North Macedonia), in her address emphasized that women do not demand more or less than men, they demand equality, and the governments, in cooperation with all relevant stakeholders, must provide equal opportunities to both women and men.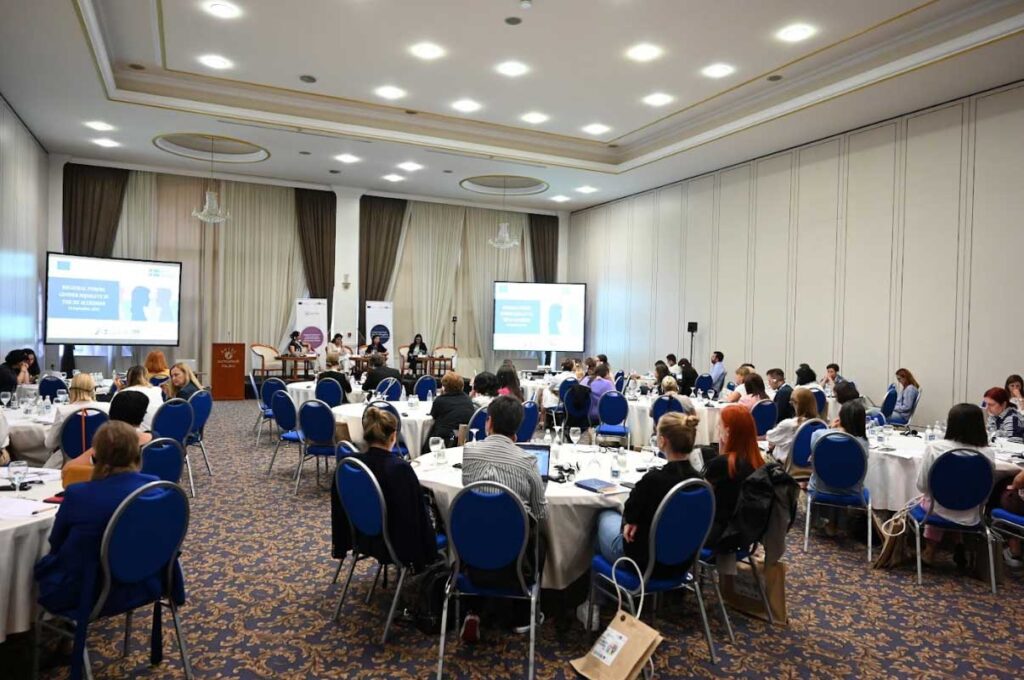 EQUAPRO is organizing the Regional Forum: Gender Equality in the EU Accession as part of the "Furthering Gender Equality through the EU Accession Process Action" (2021-2024), which is enhancing regional cooperation among women's rights civil society organizations, providing gender analyses to inform policymaking, supporting evidence-based advocacy towards integrating a gender perspective in the EU Accession process, and monitoring from a gender perspective reforms related to the EU Accession process.
This Action is co-funded by the EU and Sweden and implemented by six partner organizations: Reactor – Research in Action (North Macedonia), The Kvinna till Kvinna Foundation (North Macedonia Office), the Kosovo Women's Network, the Albanian Women's Empowerment Network, Rights for All (Bosnia and Herzegovina), and the Women's Rights Centre (Montenegro).
The contents of this post are the sole responsibility of Reactor – Research in Action and do not necessarily reflect the views of the European Union or Sweden.